The Pet Loss Network (PLN)
2021-2023
UK | International
MOTH has been a network partner, with
The Pet Loss Network (PLN)
since 2021. An international network of practitioners, professionals and researchers invested in issues of pet death and loss.
Towards the end of 2022, MOTH was pleased to be invited to design the visual identity for the network, a number of design proposals were developed and presented to the PLN members at the beginning of 2023. The final PLN logo has now been chosen and is being integrated into the website and other touchpoints.
The Pet Loss Network (PLN) is co-ordinated by Dr. Julie-Marie Strange, Professor of Modern British History at Durham University and Diane James the Blue Cross Pet Bereavement Support Service Manager.
The PLN aims to:
• Facilitate dialogue between researchers & practitioners concerned with animal end of life and those addressing the human impact of pet loss.
• Develop pilot research among key stakeholders – pet owners and vets in the first instance – to identify how existing (and future) research might be most impactful in improving pet owner experience.
• Generate a working paper identifying steps to measurably improve the experience of pet loss for pet owners.
• Strengthen the network by facilitating sustained and long-term engagement with a view to identifying external funding opportunities to develop new collaborative research on improving pet owner experience at animal end of life.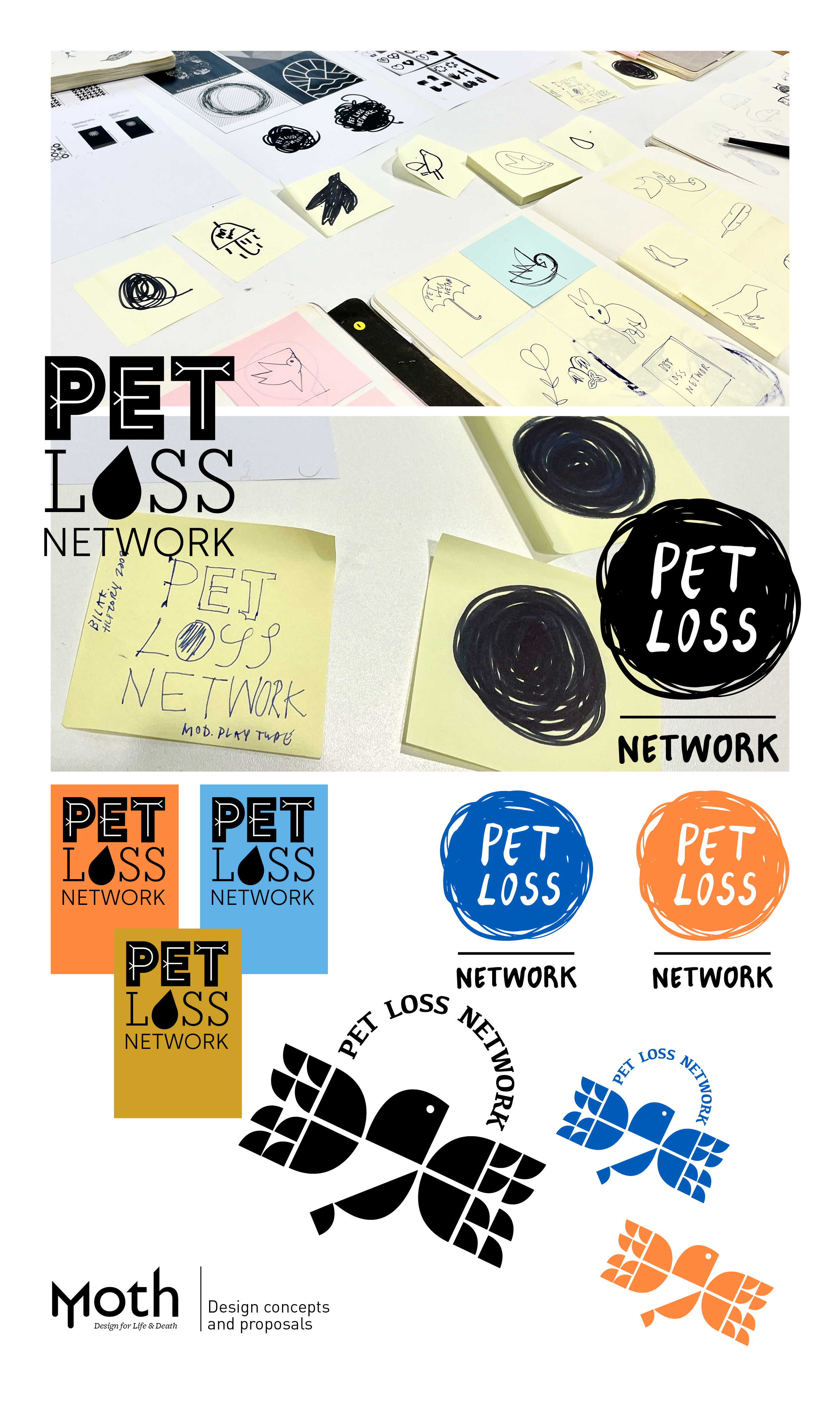 The Death & Culture Network (DaCNet)
Sept 2022
University of York, St John University
Dust Ltd.
9 July - 27 August 2022
Penzance
An Extra Place at the Table - Exhibition & Shop
Moth is so excited to announce, they are working with Lucy Willow from DUST
@d.u.s.t_art
, together they have set up an installation
'An Extra Place at The Table'
in the Dust Shop / Exhibition space.
MOTH SHOP | Design for Life & Death
Moth passionately believe that design can help us to navigate how we approach, end of life, grief and loss.
We hope that the exhibition will invite visitors to feel free to talk about who they lay an extra place at the table for and to normalise conversations about death and grief. There will also be a shop full of death and grief related zines, objects and products for sale.
9 JULY - 27 AUGUST
DUST
4-5 ALBERT BUILDINGS
PENZANCE
TR182DB
https://www.dustltd.art/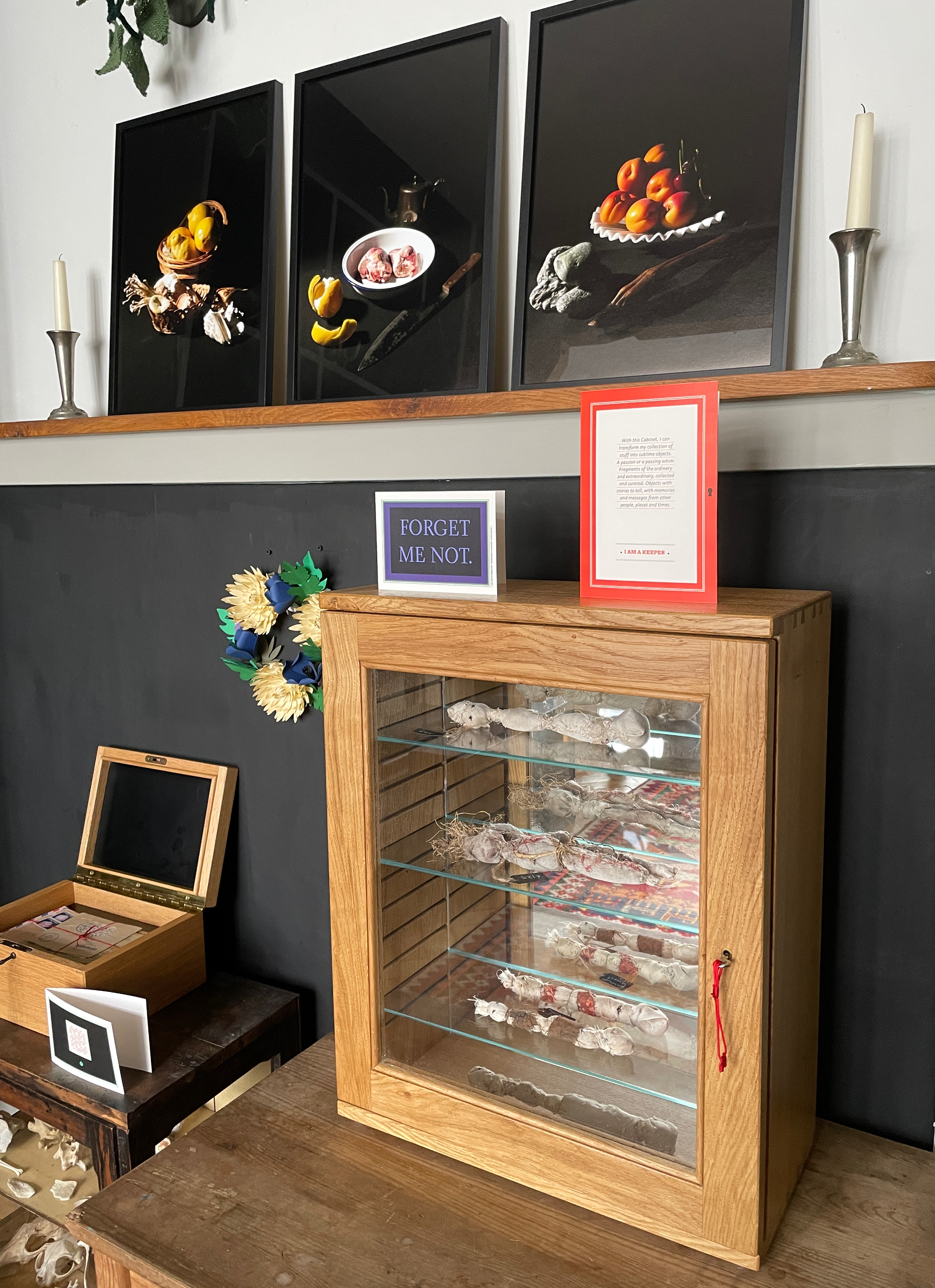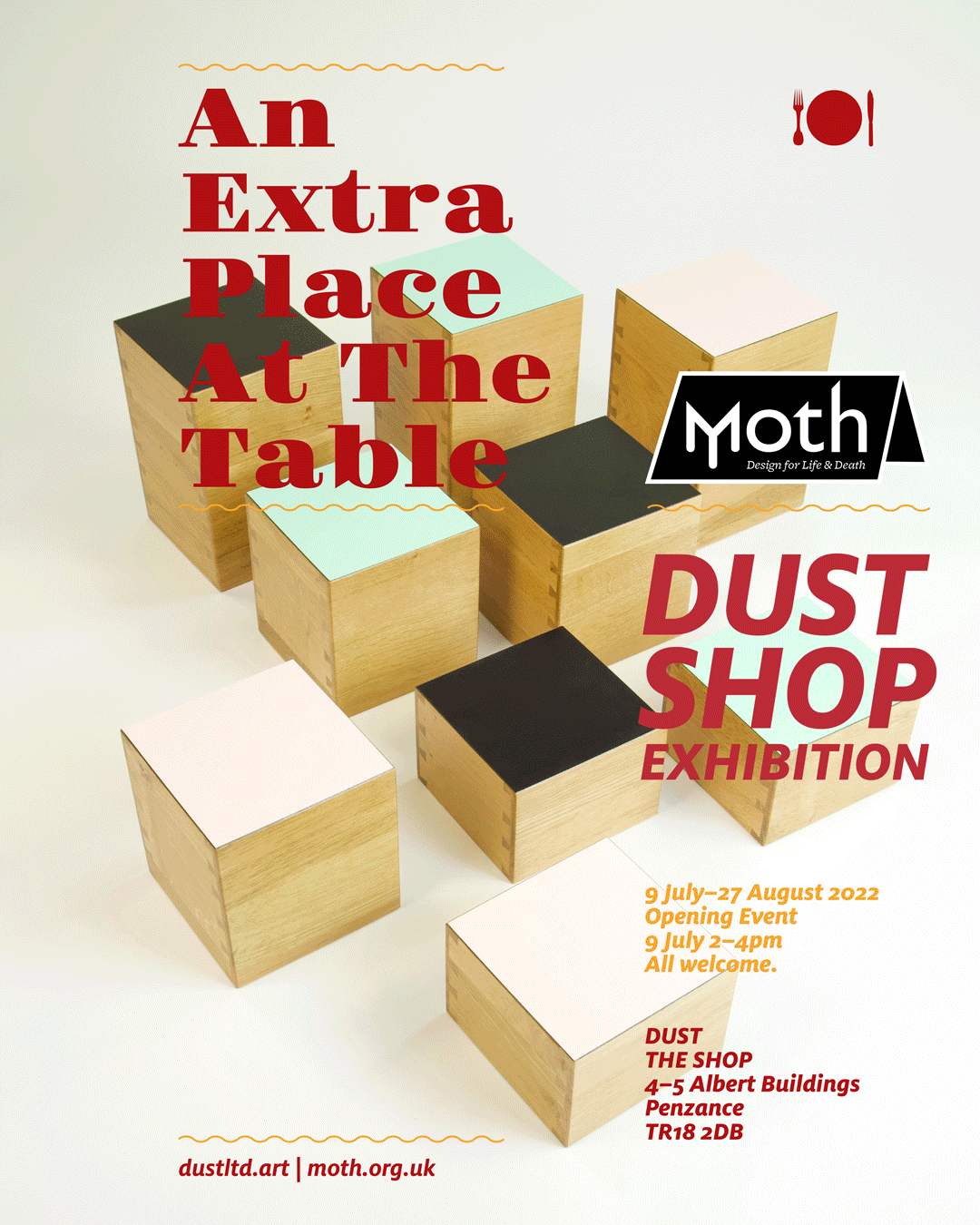 ---
Exeter Festival of Compassion.
26 November 2021
Falmouth
MOTH is delivering a half day workshop as part of the
Exeter Festival of Compassion.
MOTH invites you to consider Symbols of Death. Memento Mori images – reminding us to live life well – and to contemplate our relationship with death and what might happen to us, when the one inevitable event we plan for the least comes to visit? To start some (difficult, but) important conversations with those you love.
Date and time
Fri, 26 November 2021
10:00 – 13:00 GMT
Location
Falmouth University - Falmouth Campus
Lecture Theatre 2
Open to all.
Registration - Eventbrite
Museum of the Home
19 September 2021 & 10 October 2021
London
We're very pleased to be collaborating with the Blue Cross at the Pet Bereavement Café event, which will be taking place at the
Museum of the Home
in the heart of Hoxton, East London. Dates: Sunday 19 September & Sunday 10 October
Moth has contributed our story/advice booklet, 'Saying Goodbye to Mr Jim' which is an aid to help children and adults cope with bereavement. We have produced an A3 Pet Mausoleum image for children to colour in, especially for this event, which encourages people to reflect, discuss or reminisce about a beloved pet.
When Pets Pass On
9 September 2020
UK
Moth took part in an online workshop called:
When Pets Pass On: Sharing Good Practice in Pet Bereavement
by Blue Cross

The event was hosted by Julie-Marie Strange (Durham University) and Diane James (Blue Cross)
The first of three planned workshops features artists, practitioners and a filmmaker to explore pet bereavement in the modern world. Addressing issues of good practice surrounding euthanasia and treatment of pet remains, helping children understand pet loss, and supporting the bereaved the workshop is the first in a series of events aimed at practitioners, academics and the public to promote models of good practice in pet death and bereavement.

Moth presented their Goodbye Box and story/advice book, 'Saying Goodbye to Dr Tinkle', developed by Moth as an aid to help children and adults cope with bereavement.

Speakers include:
Zoe Belshaw (PDSA) - Euthanasia and pet bereavement from a veterinary perspective
Nikki Salkeld & Ashley Rudolph (MOTH design collective, Falmouth University) - Saying Goodbye to Dr Tinkle: Helping Children Navigate Pet Bereavement
Kevin Spurgeon (Dignity Pet Crematorium) - Practice and Perception: Pet Remains and Memorialisation
Rowenna Baldwin - Award winning director of film 'Goodnight Friend'
Diane James (Blue Cross) - Supporting the bereaved pet owner


Dying.dialogues
Jan 24 – Jan 25 2020
Toronto - Canada
MOTH delivered a keynote in Toronto, Canada!
'Dying.dialogues'
is a mini-symposium on design for end of life running in conjunction with
DesignTO
, with collaborators from the
Health Design Studio
at
OCADU
and Taboo Health. Dying.dialogues invites participants to share and reflect on design practice as it relates to the process of end of life. The symposium will engage across multiple domains, including – designers, artists, scholars, health care practitioners and the wider public. These dialogues are an opportunity to engage with diverse perspectives and participate in open conversations about death, dying and design.