Four Deadlines & A Dinner
Falmouth, UK
2017
Collaborators:
Ben James, Jotta Studio UX Designer
Anna Kiernan, Senior Lecturer in Writing
Dr Mark Taubert Clinical Director/Consultant in Palliative Medicine, Velindre NHS Trust, Cardiff.




Four Deadlines & a Dinner is a MOTH collaborative practice project working with stage 2 Graphic Design students at Falmouth University and external partners from medicine, palliative care, writing, design for the live environment and VR. During this four week period students worked across a range of death & design projects, they discussed and delivered ideas and potential solutions relating to end of life experiences.

Communication design makes sense of complex information, using systems and hierarchy to create meaningful solutions to problems and questions. Established design process underpins and documents that journey. Working with Dr Mark Taubert we explored how visual communication designers and medics could benefit from sharing knowledge and skills to impact on policy and practice with regard to end of life matters, in particular with patients with life limiting illness and their choices regarding DNACPR.

In collaboration with Ben James, Creative Director at Jotta Design and Anna Kiernan a Senior Lecturer in Writing, we considered our own personal eulogies and innovative ways in which to store our digital selves as either a digital legacy or digital archive beyond our physical life.

During this four week intensive module we hosted a Death Over Dinner party, where guests were invited to eat and engage in meaningful conversations and questions about the end-of-life:

'Do you think it's important to think about death? or is it just a waste of living time?'

'What do you believe happens when we die? The soul remains? Resurrection? We cease to be - nothingness?'

'Have you ever had a conversation with someone about what they might want at the end of their life? Would you feel comfortable with this and be able to initiate a conversation of this sort?'

The project also included a tour of artist's graves at Falmouth Cemetery run by Glyn Winchester from Falmouth Art Gallery.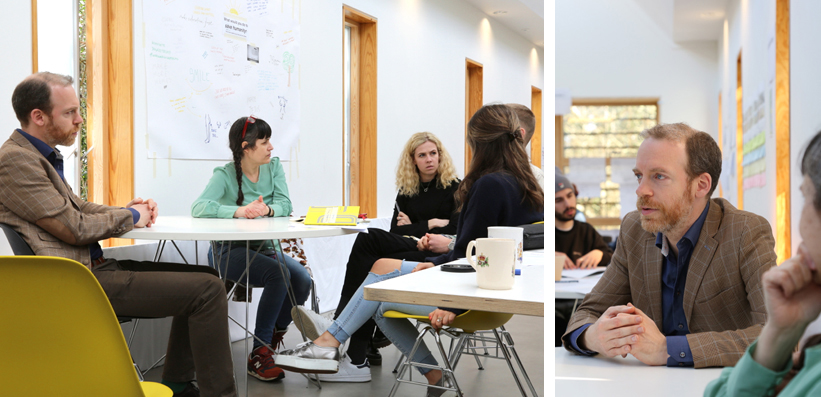 ---